If you're one of this blog's innumerable devotees, you know that one thing we believe great brands have in common is that they make hard choices. Take one of our favorites: Scion.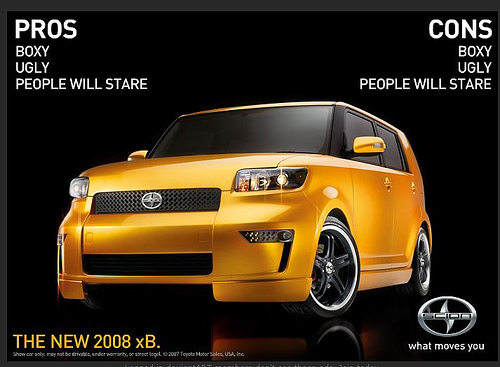 Scion's design and marketing target decidedly outside of the mainstream, even if you limit the audience to car buyers under 35. But if you peer into the next Scion you pull up to in traffic, you're as likely to see an empty nester in L.L. Bean behind the wheel as you are a young car stereo enthusiast in a flat-brimmed baseball cap. There are a lot of ways to design and market a car that comes with power everything and 6 speakers, averages well over 30mpg, and costs less than $18,000. Scion didn't choose the easiest path, but by choosing a path less traveled it has created a brand that is distinctive, ownable, inclusive, memorable, and
profitable
. Maybe Scion has taken
Geoffrey Moore's thoughts on discontinuous innovations
and applied them to car buying. Start by creating a beachhead among early adopters, then take the pragmatic majority by storm. The verdict is still out on Subaru's latest cars and campaign. It's true that to own a Suby is to love a Suby, but I'm not sure that acknowledging that bond makes it attractive to people who don't already feel it.
Furthermore, Subaru's cars are starting to look more like Mazdas and less like endearing, indestructible little gremlins. But we're seeing a company that's in the process of, as Moore put it,
Crossing the Chasm
. What better vehicle to attempt the crossing in than a Subie?